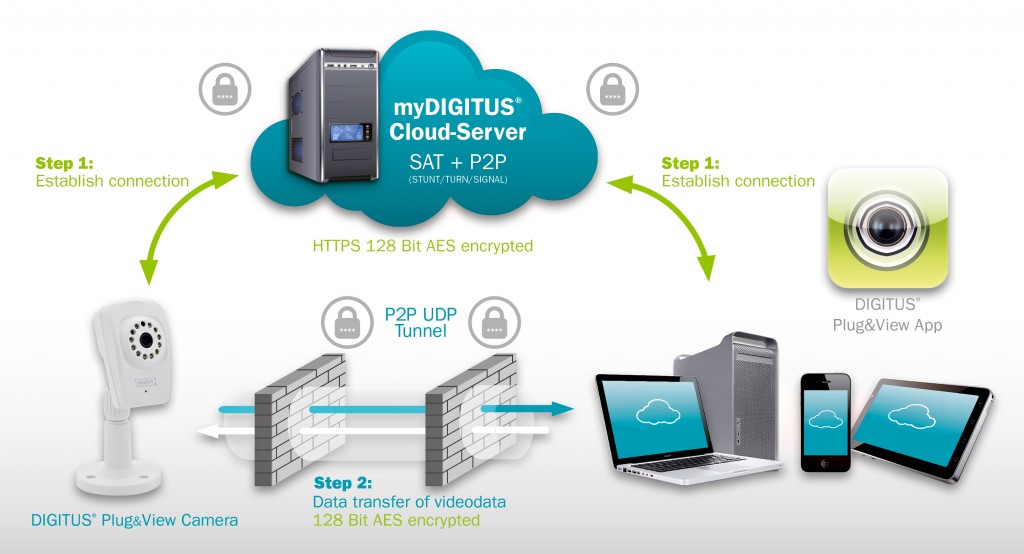 Keep an eye on what's important to you – this is how DIGITUS® Plug&View works

After it has been activated in the network and a connection to the internet has been set up the IP-camera registers automatically and independently on the cloud-server (www.login.myDIGITUS.net) . Now, please activate your user account via the internet browser or the Smartphone/Tablet app. Thus, the cloud-server can connect the mobile device to the camera.
After you have successfully set up a user account on www.login.myDIGITUS.net, all cameras which are registered under your name will be shown.
Choose one of the cameras via mouse-click and the cloud-server will provide the IP-addresses of the devices which are meant to be connected. With the delivered information of the cloud-server, the Smartphone or Tablet will build up a direct and protected tube connection to the camera. Thus, there are no video contents visible for third persons. Personal image information will also not be filed in the internet. Therefore, data privacy protection is guaranteed.
But, you can also configure your end-devices willfully via your user account to save the video data within the cloud, on a "Google Drive" access. Thanks to this, recorded video information is available over your personal access via app or internet browser.
Moreover, the system provides the chance of sending messages to your mobile device or of concerted data-saving in case of motion detection. Thus, the saved data can be retrieved at any time via app or internet browser.

 Learn here how to install the DIGITUS® Plug&View system.