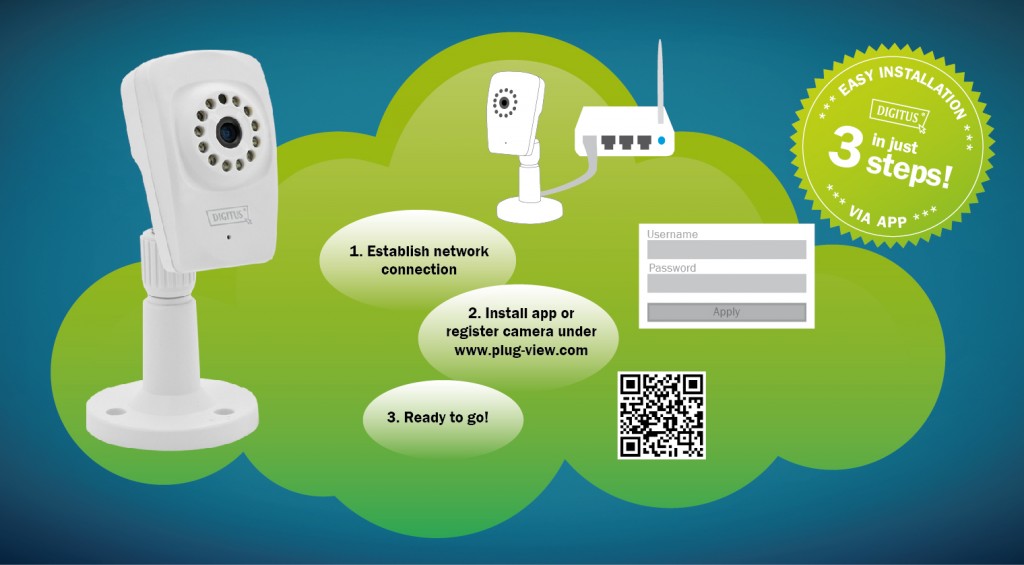 DIGITUS® PLUG&VIEW cameras – installation in three easy steps
Conventional IP-cameras can only be installed and configurated with extreme effort and high technical knowledge. The biggest barrier is the external accessibility via the internet:
• The firewall and the router ports have to be approved
• The corresponding IP address has to be known
• An external service, e.g. DynamicDNS, has to be set up to approach the camera via the internet
• A network router has to be integrated into the own network
• The network router has to be embedded at an external service provider
The DIGITUS® Plug&View cameras use a new and innovative way of setting up: Via the online service "myDIGITUS" and the individual code of each camera, a connection between user and camera is built up automatically. Thus, there is no need for a time-consuming and complex installation.
With the help of a setting up assistant, the IP-camera is ready for use within just one minute. After the registration in the "myDIGITUS" portal, the camera is recognized and added to the user account automatically. The access is possible from everywhere via Smartphone, tablet, PC or Mac. So it's really simple to have a look on Snapshots and video sequences or to configure settings.
DIGITUS® Plug&View Cameras – The easy installation via App and PC

Visit our support video page to view another video tutorials.
If you need help with the installation, please click here to contact our support-team.